Hooper Engineering is proud to announce the availability of the PupAlert Doggy Potty Alert System. Working in coordination with the PupAlert startup team, Hooper Engineering developed the circuit hardware, software algorithms, and firmware that powers the PupAlert sensor device.
PupAlert is a portable sensor that lets you know when your dog is ready to go outside. Initially used in combination with puppy potty training, the device lets out an audible alert to assist in the training process and later helps you as a dog owner by signaling your mobile device whenever your four-pawed friend need to go out.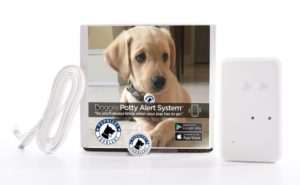 Hooper Engineering guided the development process and assisted at every step to get manufactured product ready for sale, including the development of a custom digital signal processing algorithm that drives the core of the PupAlert system.
To power the IoT component, Hooper Engineering leveraged the power of the Particle Cloud with the Particle P1 module and provided a solution that requires low-maintenance overhead cloud functionality necessary for the lean startup environment. With careful attention to detail and power consumption, the product is engineered to run for up to five days on battery between charges on a single, integrated 2000mAh lithium polymer cell.
For more information or to purchase a PupAlert unit, please visit the PupAlert website, http://pupalert.me